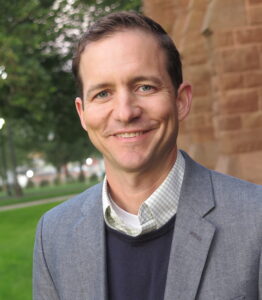 Joseph Slaughter, associate director of the Center for the Study of Guns and Society, was recently interviewed by Current—an online journal of commentary and opinion on contemporary culture, politics, and ideas—about his research on how Christianity and gun culture became intertwined in the U.S.
Slaughter discussed his research on gun manufacturer Samuel Colt and the church built in Hartford after Colt's death to memorialize him.
One of the leading gun manufactures of the nineteenth century memorialized by a church – that just struck me as really bizarre, and as I saw people (including politicians) on social media trumpeting their identities as Christian gun owners, I wondered what the history was behind this sort of thing. So, I decided to start with Sam Colt and try to learn more about the decision to connect his tools of violence to Christianity through the construction of a Gothic Episcopal church. I'm just now to the stage of presenting my first bit of Colt research at the Business History Conference this month.