"Historical and Current Perspectives on Guns & Society"
Friday, April 28, 2023
Wesleyan University, Middletown, CT
Woodhead Lounge, Exley Science Center
The Center for the Study of Guns and Society hosted its inaugural one-day Undergraduate Research Conference, with participation from students at Wesleyan University, Amherst College, and Trinity College, on April 28, 2023.
Undergraduate students, faculty, and staff presented on research topics in guns and society related to history, religion, literature, visual arts and material culture, public health and medicine, museums/public history/memorialization, business, theater, film and media, government, policy, engineering/design, manufacturing, law, anthropology, lethality, environmental history, animal studies, psychology, and/or other relevant scholarly fields.
The event was organized by Prof. Scott Gac (American Studies and History at Trinity), Prof. Jonathan Obert (Political Science at Amherst), and Prof. Jennifer Tucker (History at Wesleyan). Special guests included a curator from the National Museum of American History (Smithsonian Institution, Washington, D.C.)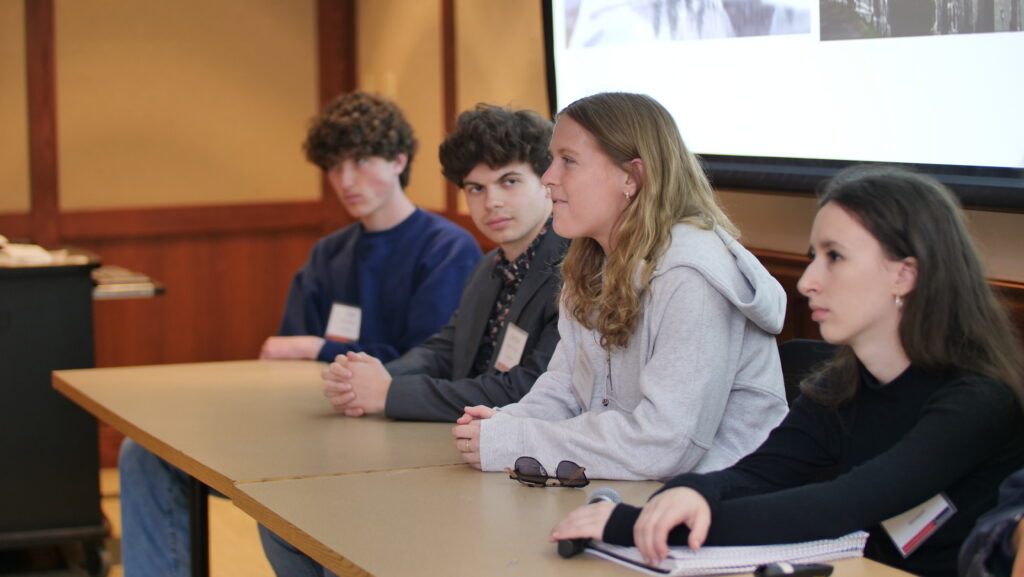 Schedule
Overview
9:30 a.m. coffee/registration
10:00 a.m. Welcome and Panel One Sessions/Poster Sessions
Noon–1 p.m. Lunch
1–3 p.m. Panel Sessions/Poster sessions
3:00 p.m. Conference wrap up
3–5 p.m. Walking tour of Middletown, refreshments, and tour of Middlesex County Historical Society collections with Director Jesse Nasta (Wesleyan)
Detailed Schedule
10:00 a.m. Welcome from Center for the Study of Guns and Society Director Jennifer Tucker
10:05 a.m. Panel/Poster Sessions on Current Research/Teaching
Brief presentations on current research projects and courses.
Panelists
Prof. Scott Gac (Trinity)
Prof. Jonathan Obert (Amherst)
Prof. Joseph Slaughter (Wesleyan)
Prof. Maryam Gooyabadi (Wesleyan)
Kate Birkbeck (Yale, Department of History, graduate student)
10:30–11 a.m. Guns in Movies/TV/Visual Storytelling
Prof. Avner Shavit (Visiting Faculty in Jewish Studies at Wesleyan), on Hollywood and independent movies.
Peter Mullen (History major at Wesleyan), on the role of documentary films.
Prof. Jennifer Tucker (History faculty at Wesleyan), on "Entertainment media as silent partners: A short history of product placement of guns in Hollywood movies."

11:00–11:20 a.m. Panel presentation: Current student research on gun patents in the Quantitative Analysis Center (Moderator Prof. Maryam Gooyabadi, Wesleyan):
Veronica Goss, Jake Gala, Simin Liu, Patton Yin, and Xiran Tan
11:20 a.m.– Noon Headline Talk
Shannon Perich (Curator, Div of Science and Industry, Smithsonian Museum of American History): "Hunting for History Through Photography" (Chair/Moderator: Jennifer Tucker)
A conversation about the role of museums and history and working at the Smithsonian Museum of American History, as well as new projects related to guns, visual and material culture, and violence.
LUNCH
1–3 p.m. Panels and Presentations by Undergraduate Researchers
Laura Braithwaite (Amherst): "Girls Got Guns: Women and Gender in Gun Advertisements"
Thomas Lyons (Wesleyan, History): "Visual Arguments in Harper's Weekly on the Role of Firearms in Reconstruction-era Society"
Lance Duncan (Amherst, Economics): "Understanding the Relationship between Individualism, Nationalism, and Guns in American Culture, Media, and Law."
Sophie Laurence (Amherst, Political Science): "From Memes to Mayhem: How the Construction of Internet Narratives Led to an Insurrection"
William Gannon (Wesleyan, History): "The History and Legacy of the M1 Garand" (Wesleyan)
Keysha Matthews (Trinity, American Studies): "Race and Guns: How the Philando Castile Case changed attitudes for Black Americans"
Trisha Mohan (Trinity, History and Political Science): "The Growth in Female Gun Ownership and its Implication for Women's Safety"
Pei Pei (Amherst): "Breaking Down the Doors of Trust: Police Militarization and Its Influence on Gun Ownership in the United States" (Case Study on Los Angeles)
Imagen Walters (Wesleyan, Psychology): "Bias in Self-Defense Court in Relation to Firearms"
Briana Rodriguez Castillo (Wesleyan, College of Social Studies): "Triggered: The Consequences of Red Flag Laws on the "Mentally Ill" and Civil Liberties"
Evan Steinberg (Wesleyan, Government): "Momentum amicorum curiae historicae: The Importance of Historical Amici Briefs in Bruen"
Faith and Firearms course (lightning rounds), with Prof. Joseph Slaughter:
Akhil Joondeph, Erin Byerly, Caroline Jenkins, Declan Derfler-Murphy, Ted Greenberg
Caitlin Doherty (Trinity, Public Policy/Law and Human Rights): "The Impact of Community Violence Intervention Organizations in Preventing Gun Violence"
Maggie Amaral (Trinity, American Studies and Hispanic Studies): "What Happens After? The Presence of PTSD in Victims of Mass Shootings Years Later"
Béatrice Duchastel de Montrouge (Brown University, American Studies and the History of Art and Architecture): "Je me souviens": An Evolving Public Memory on the Montréal Massacre, as Shown Through the Place du 6-Décembre-1989"
Joshua Jacobs (Biology) and Scott Alexander (Urban Studies) (Trinity): "Mapping Correlates of Gun Violence in Hartford"
Joshua Jacobs (Trinity, Biology): "Connecticut Provider's Knowledge and Attitudes Toward Use of Extreme Risk Protection Orders"
Panel on the Coltsville/National Park Service Collaboration with RISD and Brown as part of the Carceral Connecticut (Mellon Foundation "Humanities for All Times") project:
Fiona O'Reilly, Valerie Gottridge, Carolyn Neugarten, Tamara Pilson, Sophia Molina, and Emilia Thornton with Bryan Winston (project leader), Paul Szymaszek (project advisor), and Jennifer Tucker (faculty director).
Coltsville's Community Volunteer Ambassador, Joseph Driesenga, will represent Coltsville at the event and provide materials about internships and summer jobs.
Steve Machuga (IT, Wesleyan): "My Life with Guns"
3:15-3:30 Wrap up and questions with audience.
3:30–5:00 p.m. Tour of Middlesex County Historical Society led by Director Jesse Nasta, followed by a river walk with Italian ices.